Via Hanseatica Plus project is funded by the Estonia-Russia Cross Border Cooperation Programme. All the activities concentrate on expanding the tourism route from St. Petersburg to Riga towards Rakvere and Viljandi in Estonia and Vyborg and Pskov in Russia.
Programme
Estonia-Russia Cross Border Cooperation Programme 2014-2020 aims to foster cross-border cooperation across the borders between the Republic of Estonia and the Russian Federation to promote socio-economic development in the regions on both sides of the common borders. The application for the project was submitted in May 2017 and the financing agreement between the lead partner and the Ministry Of Finance of the Republic of Estonia was signed on April 1, 2019.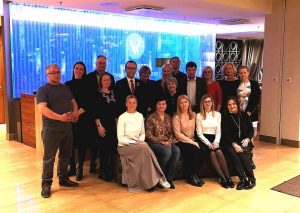 Project partners
Numerous Estonian, Russian and Latvian organisations participate in the development of the Via Hanseatica Plus route. The lead partner and coordinator of the cooperation is Tartu County Tourism Foundation. The partners of the project are  Museums of Virumaa, Ida-Viru Enterprise Centre, Tourism Information Centre of the Leningrad Region, Administration of Vyborg municipal district, Committee of Cross-border Cooperation and Tourism of the City Government of Pskov, Committee of culture and tourism of the Gatchina municipal District and St. Petersburg City Government State Geological Unitary Company «Mineral». The Associated partners include North Estonian Tourism, Pskov Region State Commitee for Culture, Committee for Tourism of Leningrad Region, Vidzeme Planning Region, Vidzeme Tourism Association and The Committee for Nature Use, Environmental Protection and Ecological Safety of St. Petersburg.
Project budget
The project's budget for the upcoming two years is 510 068 euros. 10% is covered by the partners as their own contribution.
More information:
The DG NEAR webpage til 31.Dec 2019
The DG REGIO webpage – from 1 Jan 2020
Webpage of the Ministry of Economic Development of the Russian Federation
Webpage of the Ministry of Finance of Estonia
The content of this publication is the sole responsibility of Tartu County Tourism and can under no circumstances be regarded as reflecting the position of Estonia-Russia Cross Border Cooperation Programme 2014-2020, its participating countries alongside with the European Union